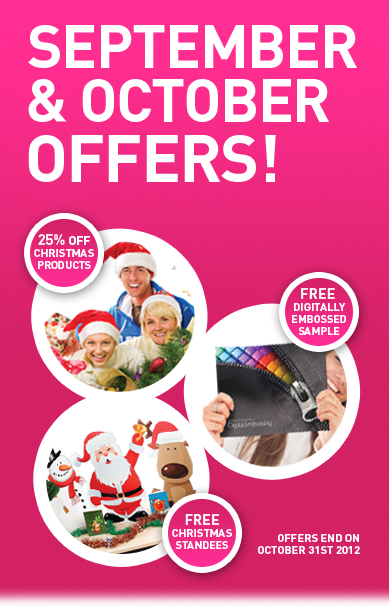 25% OFF CHRISTMAS PRODUCTS
We are delighted to again offer an early order discount on all the products in our Christmas Catalogue.

So it certainly does pay to come to the Christmas party early - it pays by a huge 25% off everything.

Please note: The 25% Discount is limited to products in our 2012 Christmas Catalogue. To qualify orders must be placed after the1st September 2012 and before the 31st of October 2012. This offer cannot be used in conjunction with any other discount or promotion.
Please quote 25CHRST2012 when ordering.

Offer runs from the 1st of September to the 31st of October 2012.


FREE DIGITALLY EMBOSSED SAMPLE
We are offering to design the Embossing Separation and print a proof again for FREE!
Now it is your chance to see how Digital Embossing can transform your image.

Please note: We only have capacity to produce three hundred FREE proofs per day. If demand exceeds this then proofs may be delayed. The code will initially work three times for you. Each time you order a Digital Embossing job it will then work a further three times. Offer runs from 1st September to the 31st October 2012. This offer cannot be used in conjunction with any other discount or promotion.
Please quote FREEDE2012 when ordering.

Offer runs from the 1st of September to the 31st of October 2012.


FREE CHRISTMAS STANDEES
You can get your hands on a Christmas Standee completely FREE! It really could not be easier, simply spend £200.00 or more on an order of printing and choose the Standee you would like. It will be delivered with your finished goods.

There are three to collect, so the choice is yours, from the traditional Santa or Snowman to the endearing Reindeer.

Please note: One free Standee given with an order of £200.00 or more. Offer runs from 1st September to the 31st October 2012
Please quote CSSNOWSO12 for SNOWMAN standee, CSSANTASO12 for SANTA standee or CSREINSO12 for RUDOLF standee, when ordering.

Offer runs from the 1st of September to the 31st of October 2012.


TO TAKE ADVANTAGE OF ANY OF OUR PRINT OFFERS JUST CALL 0121 222 5777 TO DISCUSS YOUR REQUIREMENTS.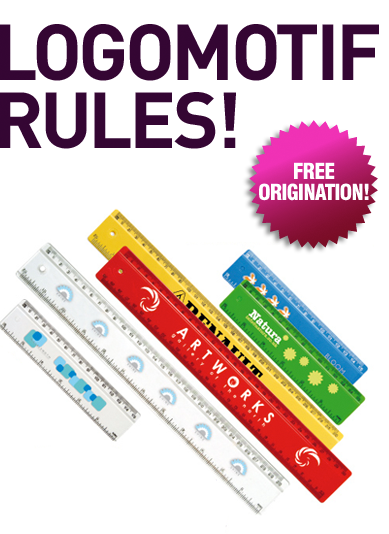 Rulers make great promotional products, ideal for use in offices, schools and colleges. Our rulers are UK manufactured to the highest possible standard and are available in a wide selection of vibrant colours.

Choose from either 12"(30cm) or 6"(15cm) to get your message across.


12" COLOURED OR CLEAR RULER


Quantity

Unit Price

Delivery

Total

250

£0.49

£12.25

£134.75

1000

£0.34

£19.25

£359.25

5000

£0.28

£66.00

£1466.00
6" COLOURED OR CLEAR RULER


Quantity

Unit Price

Delivery

Total

250

£0.41

£12.25

£114.74

1000

£0.24

£12.25

£252.25

5000

£0.21

£37.00

£1087.00

PRICES INCLUDE ONE COLOUR PRINT IN ONE POSITION
PRICES VALID UNTIL 31ST OCTOBER 2012
PRICES DO NOT INCLUDE ARTWORK (IF REQUIRED), CARRIAGE AND VAT

The prices quoted are subject to sight of artwork. All artwork should be supplied in the form of an editable EPS (Encapsulated Post Script) file or high resolution TIFF file. If you have any problems with your artwork, please call us on:
0121 222 5777



Ian Shirley
Managing Director

My principle role is to ensure that the products and services provided by Logomotif are everything you expect them to be - of the highest quality, at the right price and on time.

Q&A
What are you listening to?
Rumer - looking forward to seeing her live at the Symphony Hall later this month and Adele - raw, passionate, wow!

Best film you have seen lately?
OK, so it's not so recent but Avatar in 3D was a visual feast.

What are you reading?
The Master Key - Charles Haanel
An extremely deep and fascinating view into the very nature of the mind and it's connection with the universe - it's heavy going but amazing.

What is your design icon?
That's easy - the iPhone - it's so neat in every way.

Julie Shirey
Director

With more years than I care to mention in visual communications, my heart lies in the creation of design and artwork that develops into products that our clients love and keep coming back for.

Q&A
What are you listening to?
The Pierces, Hurts

Best film you have seen lately?
Into the Wild - just breathtaking.

What are you reading?
Yun Jung Do - The Human Art by Founder Grand Master Yun
He focuses not only on the physical side of martial arts, but also the mental, spiritual and emotional dimensions too.

What is your design icon?
Antonio Gaudi - I think he was born before his time really (1852-1926) as his designs look like they have come from the future.

Thank you for reading, we hope that you enjoyed the first edition of Logomotif News.
If you would like an email newsletter or offer of your own, please contact us and we can create one for you!

We welcome your feedback, suggestions or discussion on any of the articles and look forward to hearing from you soon.

If you would not like to recieve further editions of Logomotif News please send an email to info@logomotif.co.uk with UNSUBSCRIBE in the subject line.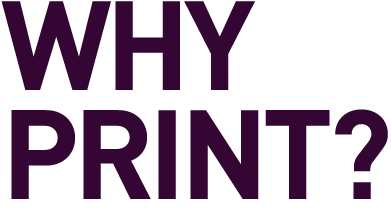 Against all the hype that is out there, the fact is that print on paper is vastly more environmentally friendly than you may have been led to believe. Here is some compelling information stating the case for print in an increasingly digital world.

Did you know that…?
Forests occupy 42% of the territory in the European Union and forest cover has grown 30% since 1950, an increase equal to 1.5 million soccer stadiums per year.

Trees absorb carbon dioxide from the atmosphere as they grow and produce the wood used to obtain cellulose fibre for manufacturing paper.

Stored carbon is not released when trees are cut, but remains inside paper products. For this reason, we talk about paper as authentic carbon dioxide sinks.

The wood used in paper manufacturing is neither fine wood nor exotic tropical species but fast-growing wood species, mostly pine and eucalyptus, cultivated for this purpose. Plantations of fast-growing species serve as carbon dioxide sinks, helping to mitigate climate change.

The paper industry is a relatively small user of wood. Globally, 53% of the wood obtained from forests annually is used for energy production, 28% is used by sawmills and only around 11% is used directly by the paper industry.

In the last ten years, the paper industry has lowered its CO2 emissions by 42% per ton of paper produced and is the biggest user and producer of renewable, low carbon energy in Europe.

The paper and printing industry represent only 1% of greenhouse gas emissions globally.

In the paper production process, only 5% of the water used is consumed, while the remaining 95% is returned to the environment after being treated.

9 out of 10 European consumers prefer paper packaging and wrapping for food and drinks because it is more environmentally friendly than other products.

Reading a printed newspaper has a lower impact on global warming than viewing the news online for 30 minutes.

Paper recycling rates in Europe have surpassed 70%. The paper industry is a leader in paper recovery and recycling and is 100% biodegradable. Used paper and cardboard are recycled and made into new paper, making efficient use of resources, avoiding greenhouse gas emissions, and reducing the volume of landfills.

Fact or Fiction?
"Papermakers rip down forests"
No they don't. This would be a very bad business move since trees are an important raw material and if they despoiled the world's supply of timber, there would be no papermakers in the future. For every logged tree in managed forests, 3 to 4 are replanted.

"Print is dirty"
No it isn't. Print is clean – its biggest consumable – paper – is truly sustainable. Increasingly the use of chemicals within the process is being cut to the minimum, and inks and coatings are being developed that are more environmentally friendly with many now being offered with a vegetable base rather than chemical.

"Packaging is not environmentally friendly"
Fiction: Certain products will always need to be protected by some form of packaging – for security, for convenience [you could hardly buy soup without any form of packaging] to keep food fresh or for transportation. Packaging is a great way of using up those recycled fibres that are not suitable for the production of high white paper. Paperboard is the most environmentally friendly form of packaging – far superior to plastics for instance.

"Electronic media is more eco-friendly"
Oh no it isn't! Your desktop computer may not seem too harmful [using anything between 60 to 250 W and an extra 15 to 70 W for your monitor plus peripherals and plug ins – laptops use considerably less by the way]. But add your computer to the millions of others around the world and it all starts to add up. However, the piece of paper on your desk uses zero.

"Making recycled paper is more polluting than making new paper"
Fiction: Pulping, bleaching and manufacturing virgin paper requires more chemicals and is often more polluting than making recycled paper. Recycled paper processes uses up to 50% less water than virgin paper and fewer chemical processes. The production of recycled paper also reduces carbon emissions. When compared to the production of virgin paper, one tonne of recycled paper can save 1.32 tonnes of CO2 equivalent.

"Making recycled paper requires a lot of bleaching"
Fiction: Most recycled papers require little if any bleaching. Where bleaching is used, almost always chlorine free agents are used.

At Logomotif we are passionate about the environment.
We strive to ensure that every aspect of our supply chain meets with the exacting standard of our environmental policy and we spend much of our time thinking about ways we can reduce the impact of our activities. Almost all the Paper and Board we use is to the FSC standard and, on request, we can now put the FSC logo on your finished printing, as a badge of honour that you care about how your printing is produced. Of course, we could buy cheaper paper! - but at Logomotif we set higher standards and we know you, our customers, do too!

It is easy to feel overwhelmed by climate change, but by choosing Logomotif as your print provider you can be certain that your printing is being responsibly produced.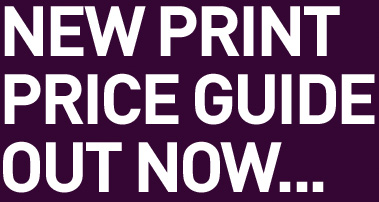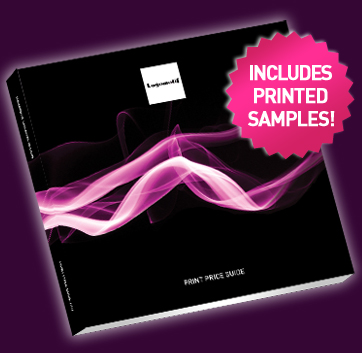 As well as containing prices for all the fantastic print products in our range it also incorporates samples of the majority of what we do – either as the pages themselves or as samples attached to them.

This feature means that you can see what the products are like as you are reading about, or pricing them.

Request yours by clicking here!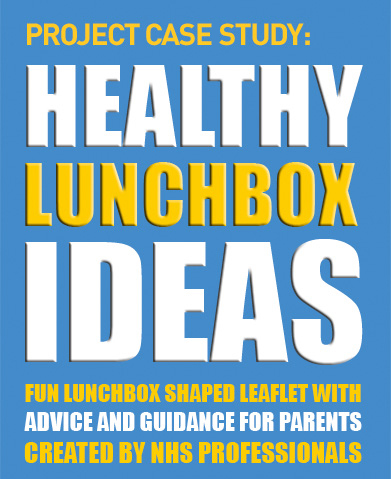 Working with Heart of Birmingham teaching Primary Care Trust, Logomotif have designed and produced a guide to healthy lunchboxes. This fun and informative guide provides parents of school children with inspiration and advice to give their children a healthy balanced lunchbox. The guide was distributed across Birmingham with great success and nowpersonalised versions acan be supplied for other organisations to promote healthy eating. If you would like further information please call or email us today...